Zugegeben, allzu viele Gründe zum Lachen gab es nicht in den letzten Wochen. Für alle, die frisch aus der Mondkapsel oder Zeitmaschine gestiegen sind: die per Virus übertragbare Lungenkrankheit Covid-19 hat sich zur Pandemie ausgeweitet, tausende Menschenleben gefordert und in Europa und anderswo das öffentliche Leben weitgehend stillgelegt. Solltet ihr euch derzeit im Lockdown befinden und euch nach etwas Abwechslung vom Nachrichten-Karussell sehnen, dann habe ich hier einen Buchtipp: War and Peas von Jonathan Kunz und Elizabeth Pich.
War and Peas, das ist eigentlich ein englischsprachiges Webcomic, das seit 2011 wöchentlich im Netz und auf Instagram erscheint. Hinter dem äußerst erfolgreichen Humor-Strip, der über die Jahre zehntausende LeserInnen für sich gewinnen konnte, steckt ein Deutsches Autorenduo und jede Menge schwarzer Humor. Die kurzen Gag-comics umfassen meist nicht mehr als vier Panels und steuern zielsicher auf die nächste Pointe zu. Der Humor bewegt sich dabei zwischen absurd und morbide, ganz im Sinne des Titels, eine Parodie von Krieg und Frieden, dem Romanklassiker von Tolstoi. In War and Peas sinnieren Büroangestellte über den Selbstmord, werden im letzten Moment doch durch das Versprechen einer Pizza von ihrem Vorhaben abgebracht. Zugleicht lässt die umtriebige "Slutty Witch" einen Liebhaber zugunsten ihres vibrierenden Besens sitzen. Visuell ist der Comic minimalistisch gehalten, verzichtet zum Beispiel ganz auf die Mimik der Figuren, was den kurzen dialogfokussierten Strips aber keinesfalls schadet.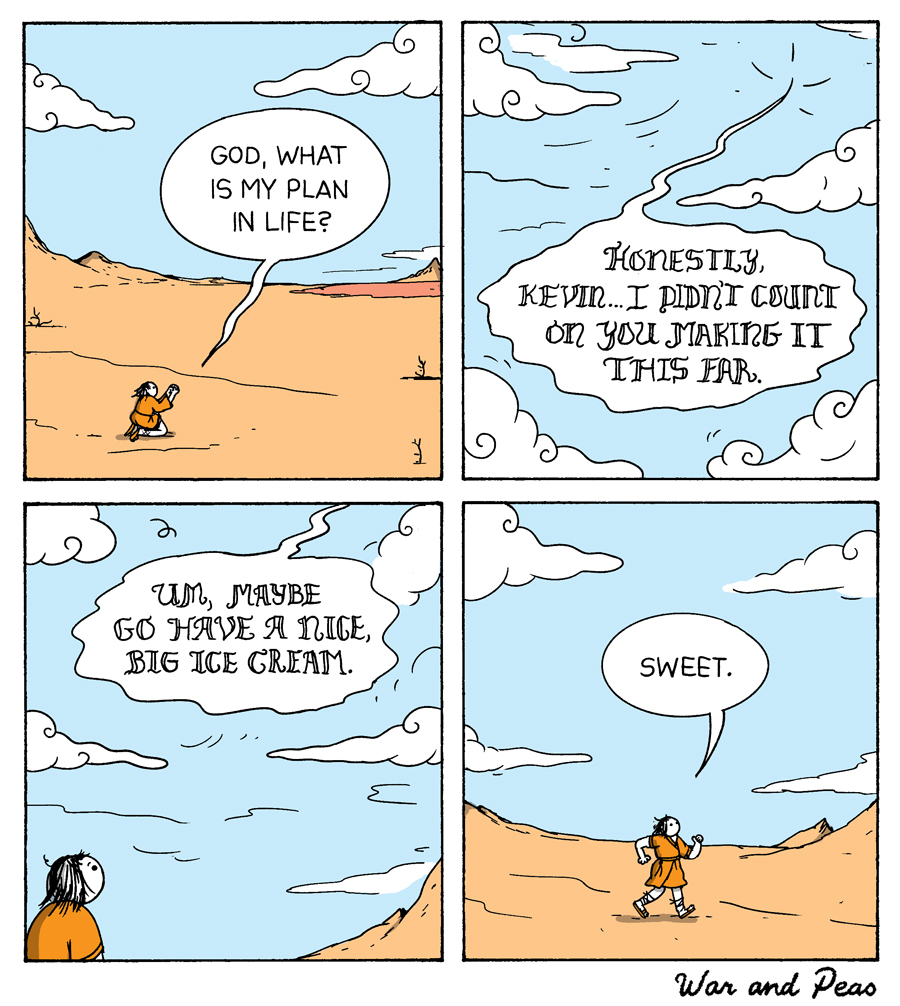 War and Peas erinnert auf den ersten Blick stark an den deutschen Comic Nichtlustig von Joscha Sauer, hebt sich jedoch mit ganz eigenem Biss und einer Prise Zeitgeist von diesem ab. Erfrischend ist hierbei besonders das humorvolle Verarbeiten gesellschaftlicher Themen wie Feminismus und Queerness. Das Buch, das im April dieses Jahres beim amerikanischen Verlag Andrews McMeel erscheint, eignet sich als Einstieg in das Webcomic. Es versammelt auf 150 Seiten verschiedenste Strips, die sowohl einzeln als auch in chronologischer Reihenfolge lesen lassen und so eine fortlaufende Geschichte ergeben. Alles in allem vorzüglich kurzweilige Unterhaltung, die mit ihrem morbiden Charme eine willkommene Ablenkung vom Tagesgeschehen darstellt.
War and Peas: Funny Comics for Dirty Lovers
Jonathan Kunz und Elizabeth Pich
2020
Andrews McMeel