A lot of things have happened since my last blog post. Back in March, I was still optimistic about my plans to go to Berlin for an internship at a German comics publisher. Little did I know how quickly the spread of the coronavirus would lead to a total lockdown in Europe. (The best image I can come up with is that of someone flicking off the switches of a fuse box, one by one, until there is complete darkness). It is difficult for me to put into words the emotional roller-coaster of the last weeks. All I will say is that I am doing okay considering the circumstances and I am back in my hometown of Bonn, proceeding with my studies.
One of the projects I am working on to keep myself sane during this time is my MA thesis. Maybe it is the experience of being involved in a global catastrophe, but something is pulling me back the work of Joe Sacco, the famous US-Maltese cartoonist and journalist. Sacco is widely considered a pioneer of comics journalism and has reported on multiple armed conflicts including the Israeli–Palestinian conflict (Palestine,1993-1995) and the Bosnian War (Safe Area Goražde, 2001).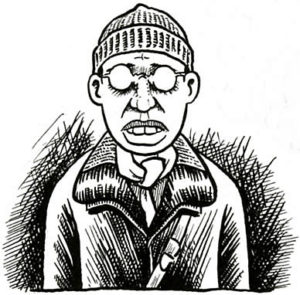 This year, Sacco is releasing a new comic titled Paying the Land. Instead of travelling to a war zone, the book is about the Dene, an indigenous people in northern Canada who are impacted by the oil industry and the colonialist politics of the Canadian state. Paying the Land will be released in the US in July this year but the publisher, Metropolitan Books, has kindly supplied me with a review copy that I am reading parallel to the already published French edition.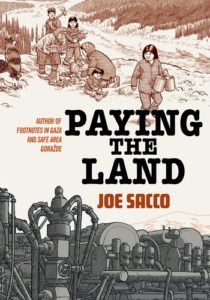 Paying the Land is a massive book, featuring roughly 260 pages of intricate, cross-hatched drawings and a narrative that weaves together complex issues of climate change, environmentalism and colonialism. It is clearly the work of a master cartoonist in his prime. The comic offers a lot of interesting material for an in-depth analysis, yet the question where to begin is daunting. Anyone who has written papers in the social sciences will know how important it is to formulate a precise research question. It is like setting the foundation of a tall building: if the research question is not precise enough, the entire structure will wobble.
A book that has given me a good clue about which questions to ask is Hillary Chute's Why Comics? Her thoughts on comics, trauma and catastrophe are a good starting point for an inquiry into Sacco's oeuvre. Among the traumatic issues addressed in Paying the Land is Canada's residential school system which forced indigenous children out of their homes and formed an attempt to disrupt and destroy indigenous cultures. To investigate how this complex issue is portrayed in Sacco's new book seems like a promising starting point for my thesis.
Writing an academic paper of this scope can be a pretty solitary activity. So, I am sharing some of my experiences and thoughts on this blog. If you have anything to add or just want to comment, feel free to contact me. Stay safe and sane!