The year 2021 is slowly coming to a close and with it a time of fascinating comics. Among my favorite (re-)discoveries is without a doubt the work of Israeli cartoonist Rutu Modan. This award-winning artist has been on my radar for a while now, but it took the emphatic recommendation by several friends for me to start reading. I began with Tunnels, Modan's latest graphic novel which skillfully combines elements of an adventure story à la Tintin with a satire of Israeli settler politics. The colorful cast of characters that revolves around the protagonist and archaeologist Nili is vibrant and the plot is full of surprising twists.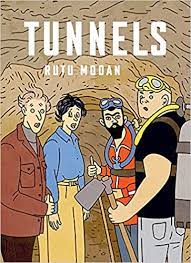 As much as Tunnels appealed to me, I must admit I was more touched by Modan's English-language debut Exit Wounds which was originally published in 2007. Exit Wounds is perhaps a bit 'quieter' than Tunnels – but no less moving. The plot centers on Kobi Franko, a taxi driver in Tel-Aviv who one day is contacted by a young Israeli soldier who is convinced that Kobi's father died during a recent suicide bombing at a suburban bus terminal. Indeed, Kobi has not heard from his father in a while – the two have lost contact after an intense argument. But how probable is it that the yet unidentified body from the site of the bombing is that of his father? And what was his relation to the young female soldier? Rutu Modan uses these questions as starting points for a moving family drama which brushes different social strata of country in which violence and terror form the background noise of daily life.
Like in Tunnels, Rutu Modan showcases her skills as a prolific cartoonist with a firm grasp for tempo and dynamic of the narrative. The drawings, which are reduced in a way that is reminiscent of the ligne claire style of famous Belgian artist Hergé, convey gestures and facial expressions in a way that give them a high degree of personality. Additionally, the comic makes an atmospheric use of colors and a multiplicity of subtly poetic image compositions. Exit Wounds is a moving tragicomedy about the loss of loved ones, about coping with physical and emotional wounds. All readers who wonder whether the book will offer a sliver of hope that the wounded can be healed will be left breathless until the very end – but not without some glimmers of light.
Exit Wounds
Rutu Modan (IL)
2007
Drawn & Quarterly